The UBC ACUP SharePoint site is managed by Animal Care Services.
Goal
To strengthen communication within the UBC ACUP in order to increase support for all those working with animals in research and teaching.
Use of the SharePoint Site
Users must read and abide by the terms and conditions governing roles and responsibilities, and information use and display.
Access to the SharePoint Site
Access had been automatically granted to all researchers with an Animal Care Committee approved protocol, facility managers, Animal Care Services, the Animal Care Committee, the In Vivo Research Facilitation Committee and designated staff. Access for all staff and students listed on an active protocol was granted in 2016.
As part of the UBC Enterprise SharePoint build managed by UBC IT Services, all users must have a UBC campus wide login and an Enterprise Active Directory record (EAD account). The EAD account is an extension of a CWL account identity and credentials will normally match a user's CWL credentials. If users need to manage their EAD account, this can be done by logging into http://www.cwl.ubc.ca/myAccount.
Terms and conditions for use of the site can be found on the home page of the site.
Logging into the SharePoint Site
To access the site, log in below with your CWL credentials. The ACUP SharePoint site can also be accessed offsite from a non-UBC network.
As a Microsoft SharePoint site, Internet Explorer is recommended as the most compatible browser, but data can be accessed using other standard browsers.
Users will be prompted to log in. Users given access to the site should use the following credentials:
Username: CWL username
Password: CWL password
Troubleshooting
Please note the ead\ prior to the user's CWL username is essential to log in if the user is not already logged into the EAD network.
Users who have not yet activated any EAD functions (FASmail, SharePoint, etc.) may experience a problem logging into the site. This problem is commonly resolved by the user resetting their CWL password at www.cwl.ubc.ca/myAccount and then waiting up to 30 minutes to log in. Occasionally users may have an existing EAD account distinct from their CWL. In these instances, the EAD login credentials should be used.
If you are using Firefox and do not receive an authentication pop up when attempting to login to the SharePoint portal, you may notice the error message as shown below. This is a known issue due to the way Firefox provides account security information to the SharePoint site.
Image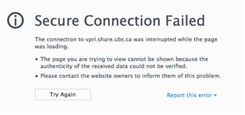 Follow the steps to modify a site's preference for authentication. Alternately, removing the site from this preference should cause a prompt for login and password.
Problems accessing the site using these credentials should be addressed to the UBC Animal Care SharePoint Administrator.
Users should not under any circumstance share their CWL credentials with others in order to allow them to access the SharePoint site.