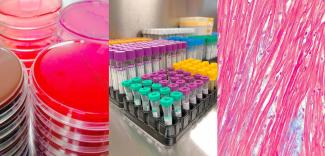 The ACS Diagnostic & Research Histology Laboratory provides a broad range of services for diagnostic and research samples collected from various animal species.
Our diagnostic services include but are not limited to bacteriology and parasitology for sentinel and research animals. In cases of unexpected mortality or morbidity and for research purposes, we offer necropsy and histopathology. We also accept samples for hematology, clinical chemistry, and molecular diagnostics for individual assays, routine and customized profiles.
Our research histology services include a broad range of histological techniques to support your research. We accept samples for standard paraffin processing, embedding, sectioning, and staining. In addition to routine Hematoxylin & Eosin, we offer numerous special stains to demonstrate various tissue components. We are also pleased to offer brightfield whole slide imaging.
Tests and services are available in the following areas:
Laboratory Sample Submissions
Refer to the Laboratory Sample Submission Guidelines before submitting your samples. For assistance with sample collection and shipping to the lab or additional tests including off-site testing, contact our laboratory staff for details.
Billing Services
All clients will receive a detailed monthly statement through Mosaic Vivarium for services rendered. Grant deductions based on PG are performed automatically through standing accounts. Contact ACS Finance for any billing inquires. For clients without a standing account, please provide a PO.
UBC's Diagnostic & Research Histology Laboratory comprises a team of specially trained professionals to address the needs of the research community.
Publications
If UBC Diagnostic & Research Histology Laboratory personnel have made a significant contribution to the experimental design or analysis of the results or have participated in preparing the results for publication, they may be included in authorship with their approval and agreement. In all cases, the lab requests the following statement be placed in an acknowledgements section of any published work that utilized core facilities: This work was supported by the University of British Columbia Animal Care Services Diagnostic & Research Histology Laboratory.