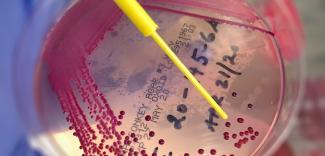 UBC's Diagnostic & Research Histology Laboratory comprises a team of specifically trained professionals to address the needs of the research community.
Jana Hodasova | Diagnostic Services
jana.hodasova@ubc.ca | 604 827 4935
Jana has over 10 years of diagnostic service experience at Animal Care Services. Jana holds a DVM degree with post-doctoral training in clinical microbiology. She is also a Registered Veterinary Technologist in British Columbia. Originally from Europe, she has spent 15 years working as a clinical microbiologist at a university hospital. Since 2016, Jana has broadened her knowledge in histology by attending a number of specialized events and educational courses.
Ingrid Barta | Research Histology
ingrid.barta@ubc.ca | 604 822 7091
Ingrid specializes in all aspects of histology and has previous research experience in developmental neurobiology. She has worked exclusively in histology service laboratories since 2007. Ingrid received her Bachelor's degrees in Animal Biology and Medical Laboratory Science from the University of British Columbia. Her work has supported a number of prominent academic and industry researchers.